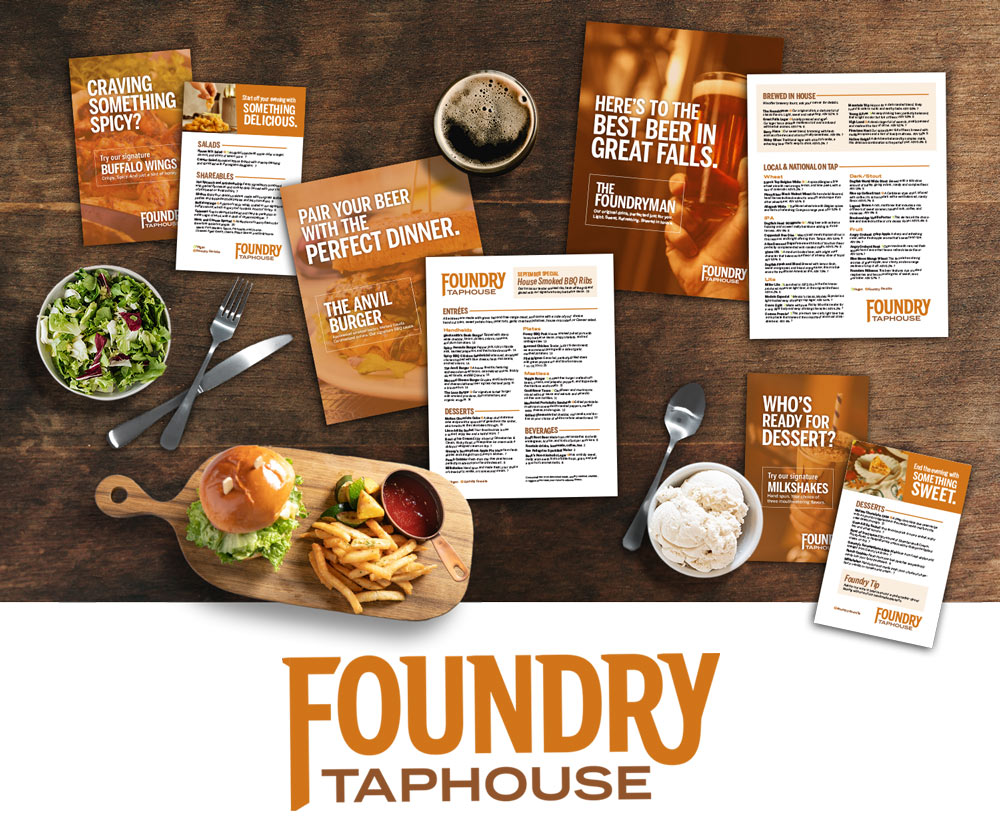 In a small group, I helped write a creative brief for Foundry Taphouse (see below). Each of the group members designed their own logo with the brief in mind, and then we created our own menus for Foundry Taphouse.
I chose solid serif typefaces to reflect the idea of a foundry. For the logo, I added serifs and some elements to the "F" and "RY" as accents to make the logo unique.
Menus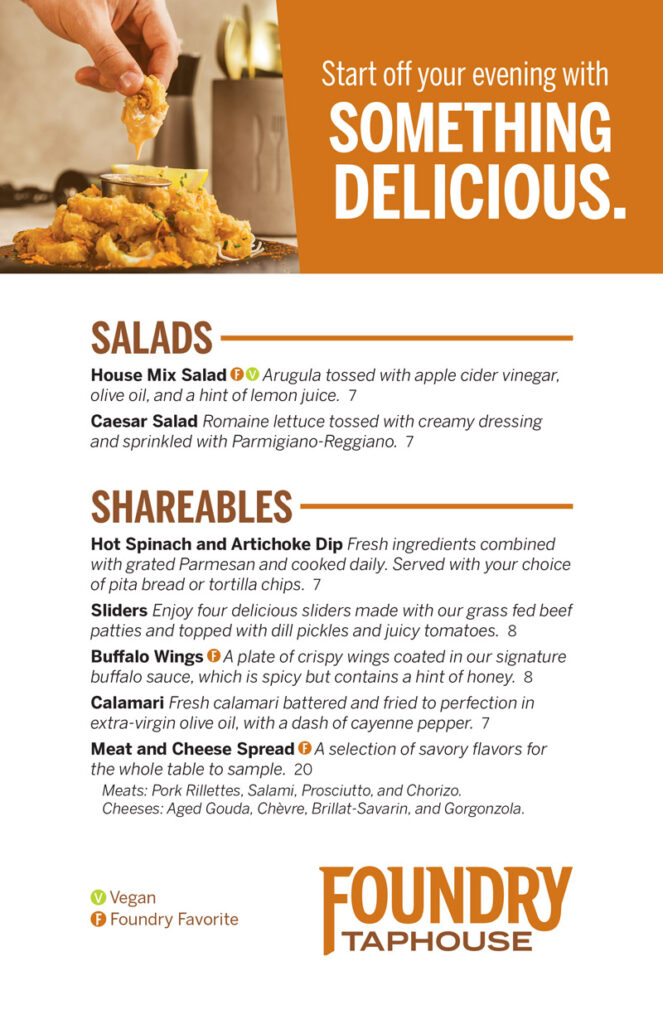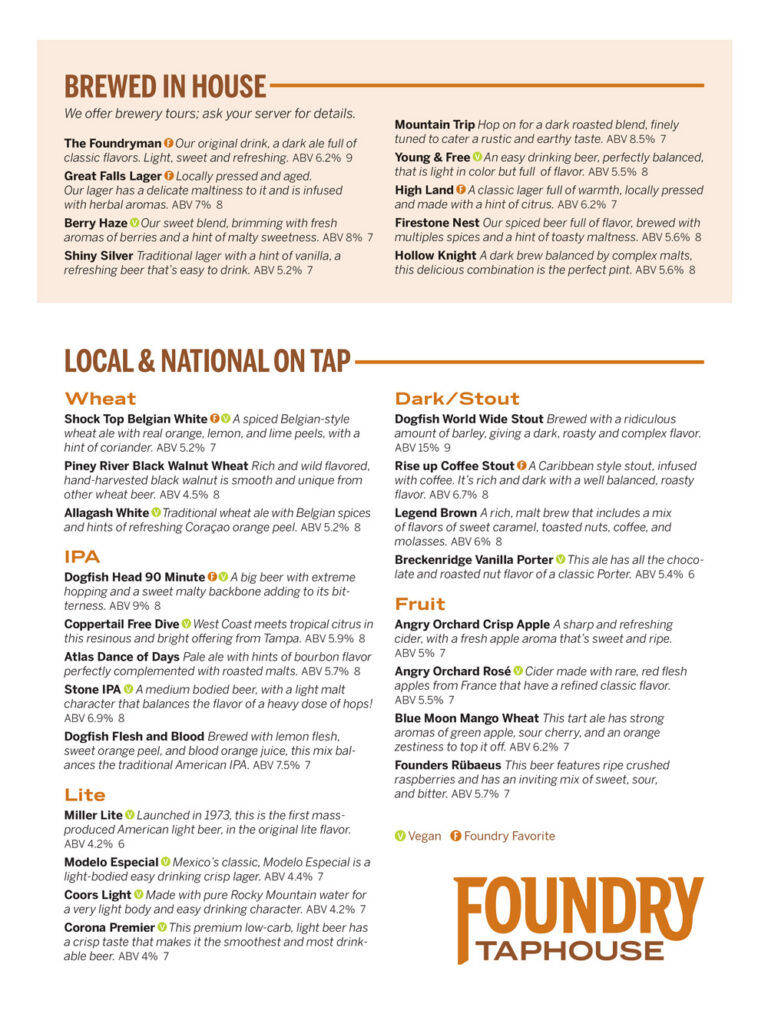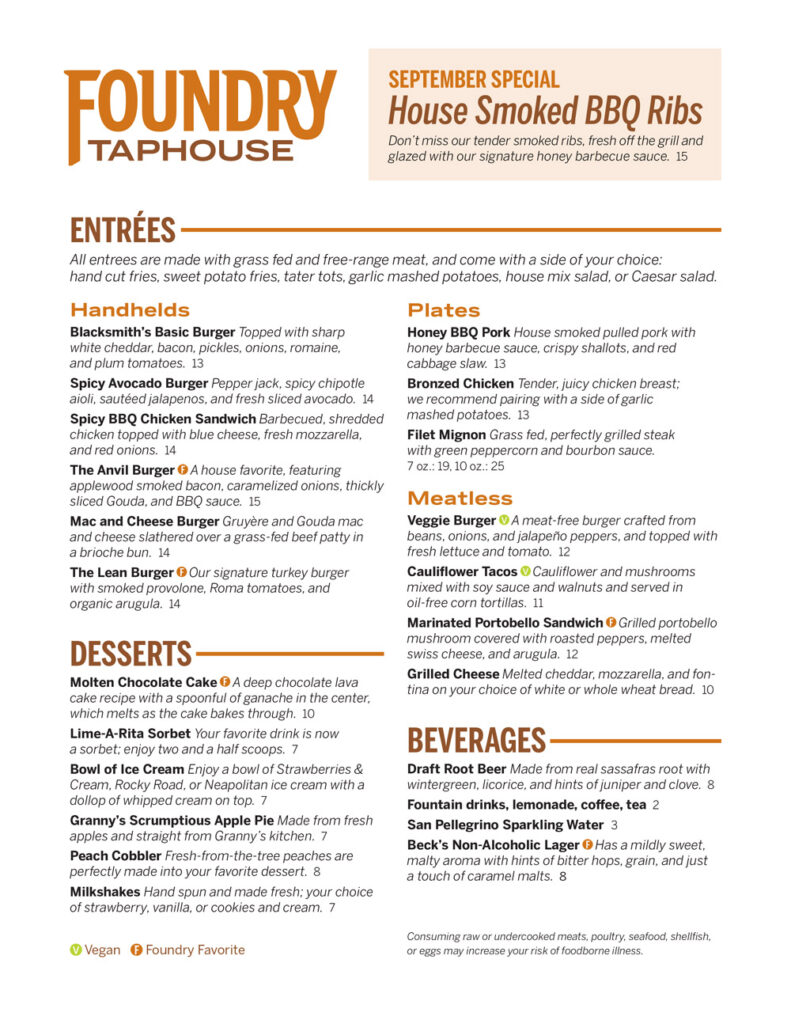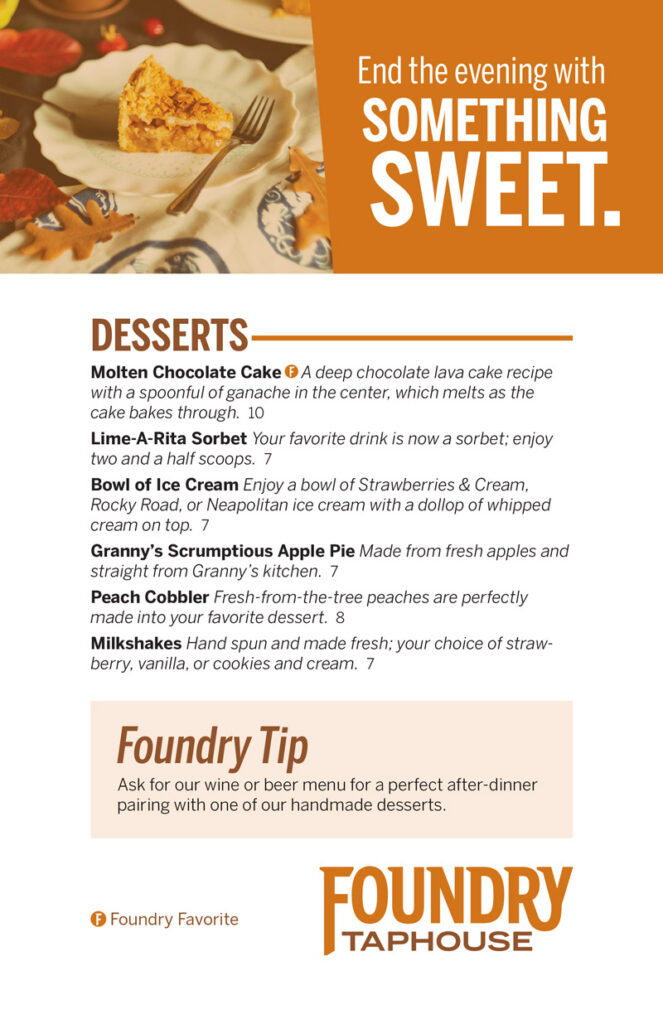 Creative Brief
Brand Overview
Foundry Taphouse is a microbrewery that is known for its specialty beers and delicious dishes made with grass fed/free-range meats. We are located in Great Falls, Virginia, and serve residents of Great Falls and nearby cities. Our brand identity and interior design recall the industrial aesthetic of old metal foundries while also presenting a first-rate bar and dining experience.
Location
In the heart of Great Falls, Virginia, Foundry Taphouse is conveniently located at the intersection of Walker Road and Georgetown Pike, in the location of the old 7-11 and dry cleaner. Our address is 9900 Georgetown Pike, Great Falls, VA 22066.
We are minutes from River Bend Golf and Country Club, Great Falls Park, and Colvin Run Mill. It is just a short drive along the scenic George Washington Memorial Parkway from Georgetown and Washington, D.C., to our location. We are also easily accessible from neighboring areas like Reston, McLean, Tysons, and Arlington.
Demographics
According to the ​US Census Bureau​ (2010), Great Falls has a population of 15,427 people, 5,035 households, and 4,439 families residing in an area of 25.66 square miles. The median income is $230,450.
The gender makeup is 49% male and 51% female. The age demographics range from 12.5% over 65, 37.3% between 45-64, 15.9% between 25-44, 5.1% between 19-24, and 29.2% under the age of 18. Racial makeup is 79.3% white, 16.8% asian, 0.9% black or african american, 0.3% American Indian and Alaska Native, and 4.1% Hispanic or Latino. In Great Falls, 96% of the homes are owner-occupied and have a median value of $1,130,400.
Overall, our restaurant will cater to residents of Great Falls and the surrounding area. Our typical customers will be middle-aged or retired, mainly white, and affluent. Our prices, ambiance, visual identity, and menu items will reflect the tastes of this demographic.
Ambiance
Not just another microbrewery with a taproom, Foundry Taphouse pairs our own home-brewed beers along with other local/national beers with a menu featuring freshly cooked meals prepared by our chef, Jacob Marcello, who trained under the famous Bobby Flay. We value our customers' health and our impact on the environment, so we only use grass fed/free-range meats in our dishes. Inside, corrugated metals, brick and wood siding, and black exposed ducting line the ceilings next to heavy steel beams and specially designed 10 foot wide ceiling fans. Our concrete floors with custom staining lead you from the thick wood framed glass doors, past a glass enclosed room with all our stainless beer kettles, right up to our open dining/drinking area filled with community style tables, a stainless steel bar, and the most comfortable pub chairs you've ever sat in.